Yesterday was "Festivus," the holiday they make up on "Seinfeld" in season nine (you can watch it on Hulu and if you click here, you get the first 30 days free).
In honor of the holiday tradition, we decided to have our own "Airing of Grievances" on Twitter.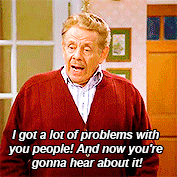 Here it is:
Seriously, why Arby's?
I have been here for the past 2 months and it is freezing.
Stop the constant trolling. It is funny but come on Mr.Burger King.
This would be a "Festivus Miracle."
For all of us crypto-nerds.
Have Happy Festivus, a Merry Christmas, and a Happy New Year!
Make sure you follow us on twitter to see more of this stuff.
We wanna be honest with YOU!
This is to advise YOU, that sometimes in a product review or mention, there will be a link that will take you to that product if you click on it. Sometimes, these links are "affiliate links" and if you make a purchase right after you click on it, we (FoodieSpace) get a commission. We promise to let you know at the bottom of each post if it contains any type of affiliate links.
This post does contain affiliate links.